This afternoon, C and I loaded up gear and headed to Long Hunter State Park, home to one of my favorite trails in the area, the four-mile Day Loop Trail. A portion of the Day Loop coincides with the longer Volunteer Trail, and as the
park website
notes, "These trails wind along the shore of J. Percy Priest Lake, climb overlook bluffs, and wander through hardwood forest, cedar glades, and interesting rock outcroppings." Both offer great scenic hiking, no matter the time of year.
Click pictures to enlarge.
C got to try out his new hiking pole, compliments of Santa Claus, and since the temp was only in the mid-40s, we remembered the hot cocoa—our favorite cold-weather, hiking companion. Right around the two-mile mark, we took a break on one of the rocky bluffs, snacked on trail mix, and slurped down our hot chocolatey treat. At the end of our hike, as we headed up the gravely path that empties into the parking lot, we saw a deer standing almost at the trailhead. It watched us for a long time before deciding to bolt, and another deer jumped the trail right behind it.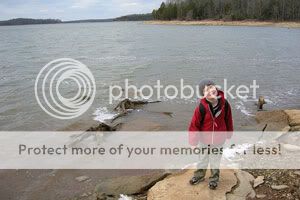 Long Hunter Day Loop
⇒ Click here for a more detailed .pdf map of Long Hunter State Park.