Camping is hard work when it's 95 and humid. That's the ingrained lesson from this past weekend. Despite the heat, the whole family unit loaded up and headed over to the Long Branch campground on the Caney Fork River. We'd had our site reservations for several weeks and couldn't cancel without losing money. Otherwise, I don't know if we would have braved the temperatures with a small baby in tow.
We had a bail-out plan for V and E to go home for the night if necessary, but it turned out the baby was the calmest and coolest of all four of us. She kicked happily under the breeze of a box fan, cooed and smiled when she got cold water wipe downs, and slept like a log both nights.
We camped on the section of the Caney Fork just below Center Hill Dam, where cold water pours from several falls near the base and sustains a vibrant trout population.
TWRA
stocks both rainbow trout and brown trout in the river, and you can see them swimming everywhere in the chilly, crystal-clear water. During the day on Saturday, I caught a mix of small rainbows and browns, but at night, the larger browns apparently cruise the river, and I got into several larger fish that put up a good fight. I also caught my first walleye on the second night - a bit of an unexpected surprise.
Particularly important on this river is attention to the
Center Hill generation schedule
. Releases at the dam can change river depth quite drastically. This rise is a bigger deal if you're wading, but even in a kayak, it becomes much more difficult to paddle upstream against the discharge. Also quite useful is this
U.S. Army Corps of Engineers collection of .pdf images
that includes Center Hill Lake, the Caney Fork River, and Long Branch campground.
C seemed to have a good time. He and I found a nice, shady place to fish on Saturday while V and E took refuge in the cool climes of the Smithville Walmart. He really liked the fact that we had to climb down a ladder to get to the spot on the bank. He and I also paddled up to the dam and down the river a ways on Sunday. It truly astounds me when I look at some of these pictures and realize just how big he is getting to be.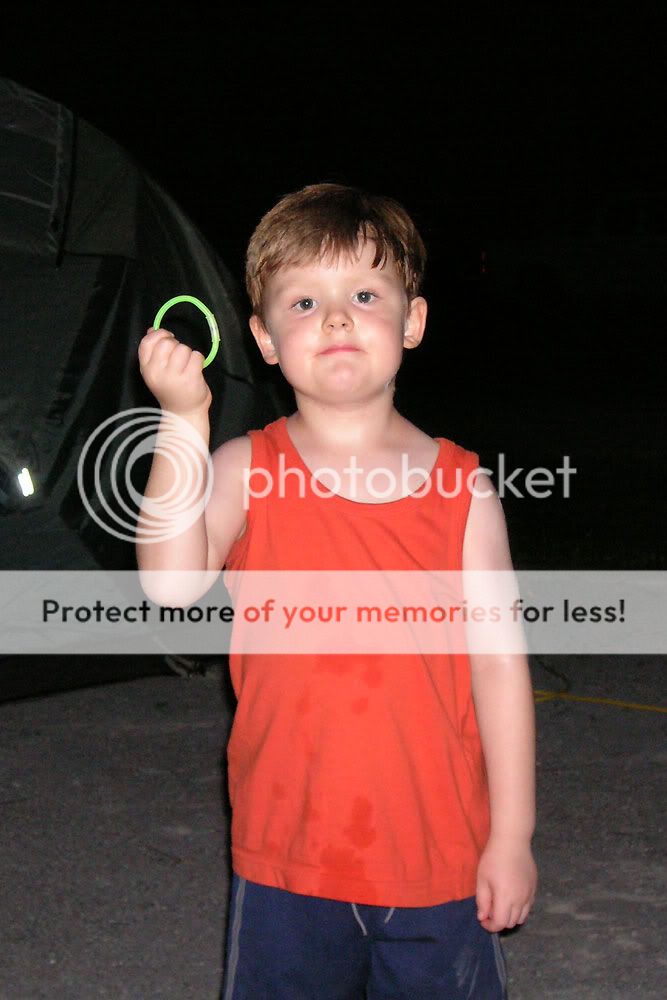 Though the days were hot, the river itself was quite enjoyable, and I plan to go back for some day floats this summer and for more camping in the fall. The Caney is a truly stellar river with some great scenery and fantastic fishing. Maybe next trip, I'll try my hand with the fly rod.
Final note:
A fitting end to any camp day is cobbler, so I'll close this post with an easy recipe for Dutch oven cobbler that we've used with success more than once.
Source: http://camping.about.com/od/recipes/r/ucrec108.htm
Author: Mike Pierce

This quick and easy recipe will satisfy any sweet-tooth. My favorite is apples, white cake mix, and 7-UP. Want something really different? Try apples, spice cake mix, and one can of AW Root Beer.

Ingredients:
1 18-ounce box cake mix (any flavor)

2 16-ounce cans of pie filling or other fruit
1 12-ounce can of 7-UP
2 tablespoons butter
Preparation:

In a 12-quart Dutch oven, spread evenly butter on bottom. Drain the fruit, pour it into the Dutch oven, and sprinkle the cake mix evenly over the top. With your finger, make a swirl in the mix. Pour in a can of 7-UP. Cover with lid. Put 8-10 charcoal briquettes on bottom, 16-18 on top. Cook for 50 minutes to 1 hour, or to a golden brown.

Servings: 10 - 12
Preparation time: 1 hour