Yesterday, a member of Team Essence, a middle-Tennessee sea-kayaking team, relayed to me the fact that the fish were jumping on Percy Priest. He'd been out for an early morning paddle near the Smith Springs Recreational Area, and fish had been breaking topwater for a good hour or more near the boat launch.
My guess was white bass feeding on shad, and so I headed over early this morning to have a look. Lately, I've made a few modifications to my Wilderness Systems Pamlico 100, including the installation of a couple of rear rod holders, and I was eager to see how everything worked.
I hit the water as the sun was coming up over the lake and took a couple of sunrise shots, one with the rod and one without. Though fishing was pretty slow in the cove, there were a few fish hitting topwater, and I hooked into a couple using a Yo-Zuri topwater plug. One was a decent largemouth, but unfortunately, both fish jumped, shook, and spat the lure near the boat.
I puttered along, fishing topwater and casting to the occasional splash. However, when I finally got out of the cove, I could see the real bite. In the next cove over, maybe a quarter-mile away, the white bass were tearing up the shad schools. You could see the topwater strikes going non-stop. I reeled in and put the kayak in high gear. When I got over to the action, this is what I saw all around me...
The white bass absolutely nailed the Yo-Zuri plug, and I had five or six on the stringer before I knew it. Somewhere in the frenzy, a white bass ran off with my lure, and I had to swap over to a Heddon topwater plug. The bass tagged this new lure just about as well. For nearly an hour, it was non-stop splashing and hooking up on top. At the tail end of the bite, as the white bass were going deeper, I caught two more on a silver spoon and decided to call it a day.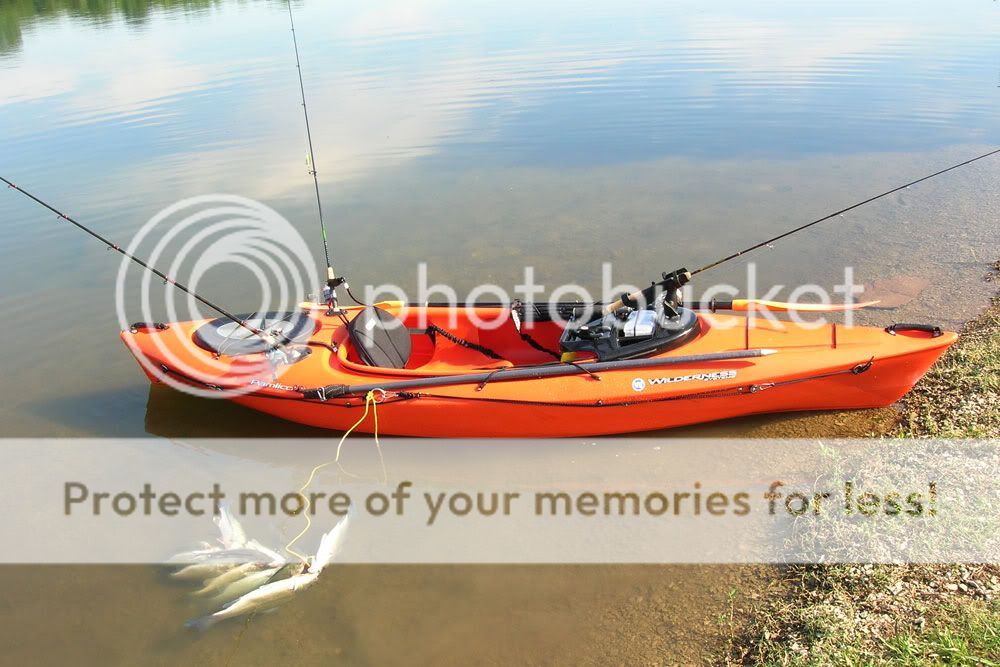 I wound up keeping thirteen whites and a couple of largemouth. But I missed four or five more, including two really nice largemouth bass. In my rush to get a lure back into the water, I often brought in the fish a little too green, and several shook loose near the boat as I was lifting them up.
Just as I started to paddle back, a sizable catfish that had to be 3 feet or longer did a porpoise roll about 20 feet from my yak. It freaked me out to see one that large come to the top. I put the spoon out in front of the fish, but it wasn't interested. Hooking into that thing would have been icing on the cake.
Great morning of fishing nonetheless, and to boot, I really liked the way my new holders kept the rods at an angle clear of my paddle stroke. I may have to look for that shad bite again tomorrow.