I spent the morning at one of my favorite fishing spots, the jetties at Orange Beach and Perdido Pass. Years ago, on the same rugged, barnacle encrusted rocks, I got my introduction to inshore saltwater fishing, and as long as I'm able to clamber back out there, it's a place where I'll occasionally return to restore my inner sense of rhythm. It's one of the settings where I feel most at ease.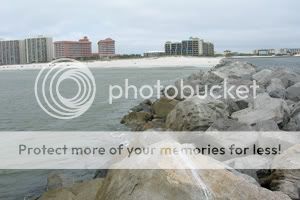 On these jetties, I've caught just about every inshore fish native to the area. Part of the appeal of the place is that I never know what I'm going to catch, but I almost always catch something. With an outgoing tide, predatory fish like to wait just outside the current spilling from the pass since the tide pushes food, be it shrimp or crabs or smaller fish. In terms of tactics, casting to the current line is ideal, and it's much easier to do when standing on the very last rock. However, the scramble out there with rods and tackle is no cakewalk, and lugging a bucket full of water and live shrimp makes the trip even more challenging.
To transport all the gear, I use a backpack system copied from a fellow fisherman I encountered on the jetties several years back. It consists of a G.I. duffel with backpack straps, a five-gallon bucket with lid, and an aerated bait bucket. The lidded bucket holds the smaller bait bucket and prevents sloshes from soaking the backpack with smelly shrimp water. Tackle goes on top of the big bucket, and I slide a six-foot net down beside everything. Any other items (jacket, snacks, etc.) go in a stuff sack on top of the tackle box.
Once out on the jetties, the larger bucket provides a handy place to store catches. In the past, I've relinquished quite a few fish to the jetties because (a) they flopped off the rocks and back into the water, or (b) my stringer became stuck in a crevice in the submerged rocks. Between the long net for landing fish and the bucket for storing them, my catch and keep ratios have gone up.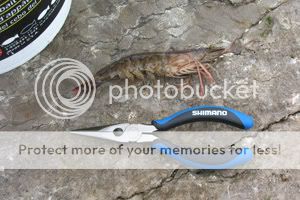 A new bait shop opened just across from where we typically stay in Orange Beach, so getting live shrimp was convenient for a change. The shrimp were surprisingly bigger than I'm used to and included a couple that were bordering on prawn-like.
Fishing was pretty slow on the whole, but I enjoyed being out there, listening to the crash of the waves on the rocks, and just slowing down. I did catch a few—including a pinfish, a catfish, a puffer fish, a couple of mangrove snapper, and a nice slot redfish. This last one, my birthday gift from the fishing gods, bit one of the really large shrimp and reminded me why I miss fishing down in the Gulf so much. I can't imagine many better ways to turn 40 than wetting a line in saltwater and having some success.
UPDATE: On the 19th and 20th, I returned to the point of the jetties with some artificial lures, including a hefty looking bait made up of a large bucktail jig dressed out with a blue/white Cocahoe minnow. (I must give props to
José Wejebe of

Spanish Fly
fame for this idea.) Both days, I hooked into a few nice bluefish with this lure and managed to land a couple of them.
A gear note worth adding involves
Teva
sandals (
pronounced
TEV-ə rather than TĒ-və, by the way). They work as advertised. I have had a pair of Teva Terra Fi sandals for years now, and they are some of the best shoes I've owned for rock scrambling, especially around water. I have navigated the jetties barefooted before. Not recommended. The Tevas are the way to go. They grip well, stay secure on the foot, and dry out quickly when wet.