This past Tuesday, I backpacked the Volunteer Trail at Long Hunter State Park and camped at the park's primitive sites. Jimmy and I had talked about taking such a trip, but since he is busy this week working on his pilot episode for HGTV, I decided to go it alone. After securing a permit from the park office, I hit the 5.7 mile trail a little before six o'clock and put in a solid 2+ hours of hiking, stopping only for the occasional water break or photo op. Even in the oppressive 90+ degree heat, the hike was a good one. I kept a decent pace, enjoyed some scenic overlooks of Percy Priest Lake, and managed to reach camp well before nightfall. Below is a GPS capture of my route.

Long Hunter Solo - Hike In


The hike also had some disappointments. Long stretches coincided with what must have been the high water mark of the May flooding. As a result, an assortment of garbage often ran alongside the trail. (Note to fishermen at Percy Priest: properly dispose of your damnable bait containers!) I plan to contact Long Hunter and see if the rangers have a cleanup scheduled for that area. In addition, based on hiking the Day Loop at Long Hunter, I was used to a well-defined, managed trail (⇒ picture link), but in a lot of places, I hiked through passes nearly overgrown with flowers and grass (⇒ picture link). As a result, that evening I had the displeasure of removing a Lone Star tick from my knee even though I had liberally sprayed down with a Deet-based repellant before starting out.

Click pictures to enlarge.



Camp was a pretty simple affair of a tent and a fire. Though I noted an abundance of downed limbs on my way in, the area around Campsite 1 did not hold very much firewood. Still, some kind soul had left behind a little kindling, and I was able to scrounge up enough limbs to have a good fire until I went to bed. To pass on the good karma, I left behind a couple of decent limbs I'd scavenged.

One point of interest was the numerous reflective specks that appeared each time my head-lamp beam hit the ground. There were hundreds of pairs, and upon investigation, I finally figured out that the specks belonged to tiny spiders (their eyes, I suppose). The size of the specks, however, did not coincide with spider size. I noted a pair near the fire at one point, and when I walked over to stoke the coals, I was surprised to find a specimen about the size of a silver dollar. Not quite tarantula-like, but getting there. As a point of order, I made sure my tent zipper was securely fastened once inside for the night.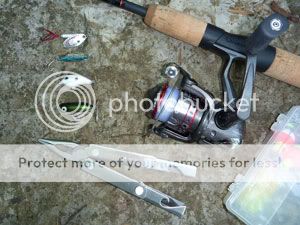 Next morning, I woke up later than intended but still got out on the water to fish for a while. On the Long Hunter scouting trip, I'd noticed that the Corps of Engineers placed fishing structure directly in front of the Long Hunter campsite, so I took along some tackle. Though I'd eventually like to get a St. Croix travel rod (expensive!), Academy Sports had some very nice two-piece, ultralight, Quantum combos for only $30. And after some searching online, I found a very elegant solution for protecting the rod during transit—a plastic protective cover for a fluorescent bulb. In addition, I put together a small fishing kit in a Plano micro box, and I'm happy to report that each of the lures I selected caught fish. I was particularly impressed by the little Strike King crank bait and by the Kastmaster spoon.

After catching and releasing several small bass and one bold shellcracker, I had some breakfast, broke camp, covered the smoking coals in the firepit, and geared up for the hike back to the trailhead. The return trip went slightly slower than the day before, probably because I was traveling more in the heat of mid-day and because I made a long-ish stop to filter water.

Long Hunter Solo - Hike Out


One purpose of the trip was to assess gear in preparation for an upcoming backpacking trip at Big South Fork. To that end, this trip was a success, and below, I note some of the more important lessons learned:
Two words: baby powder. The word

chafe

is never pleasant to contemplate on mile five of a six-mile hike. Discount stores offer powder in a trial size that is perfect for backpacking.

Two more words: long pants. As mentioned, the trail got unruly in spots, and I suspected I'd see more ticks on the way out. Sure enough, after hiking through a particularly dense portion, I inspected my legs and found another Lone Star tick crawling around. On future trips along unfamiliar trails, I'll have long pants available. I even own some convertible hiking pants with zip-off legs, but I left them at home.

Because of my tick encounters, I realized the value of a larger can of bug repellent with a higher percentage of Deet. I'm contemplating Permethrin but have not yet tried it.
I've written about the usefulness of good boots and hiking poles with a child-carrier backpack. In similar fashion, with a weighty pack, these two items offer greater stability along the trail.
Still, I am reconsidering footwear. I've long worn a pair of Lowa Scouts when hiking with my children on my back. But I've never done 11+ miles with the boots and substantial weight. By the end of day 2, I had some rubs and even a blister on one heel. I appreciated the ankle support the boots afforded, but I am tempted to try lighter weight hiking shoes on a subsequent trip.

Speaking of weight, I did learn something about water's weight. My gear at the start came in at 43.5 pounds and fell to about 34.5 pounds once I got back to my vehicle. The difference, of course, was water. I began with 4 liters of water (8.82 pounds) and had no water by the time I got back to my truck. For the record, a liter of water is 2.205 pounds (1 kg).
More on weight... As one might imagine, as the hike progressed, I began to reflect on extraneous pounds and ounces. I clearly had redundancy in some areas (e.g. three lights, two mugs). I carried in a sleeping bag that I did not even use (my silk bag liner was all I needed). I carried all my keys (instead of just my truck key) and my wallet (instead of just identification). I had more tent stakes than I really needed. While I'm not quite ready to start cutting edges off maps and removing labels from clothing, I do realize there are some simple ways I can cut weight from my pack.
One item I was glad to have was my MSR MiniWorks EX filter. By the time I was ready to hike out Wednesday morning, I'd used up all four liters of water I took in. With the filter, I was able to make a quick liter from the lake, and about midway through my return, I stopped to make another liter. Without those two extra liters, dehydration would have been a sure thing, and without the filter, I would have needed to use purification tablets (which taste bad) or boiling (which takes time) .
As for water portage, I used a 3L Camelbak reservoir for most of my water on the first day. However, I also had a wide-mouth Nalgene on my hip. The bottle was extra weight, but the Nalgene links up nicely with the MSR filter and makes the job of filtering much easier. It also serves as a measuring cup for prepping my freeze-dried food.

I was happy to have along my Crocs. While an extra pair of shoes may seem like excess, Crocs are relatively light and comfortable. They were a blessing once I got to camp, and they were useful for wading.
The Numbers
Miles Hiked: 11.4
Average Speed: 2.2 mph
Pack Weight at Start:
~ 43.5 pounds
Pack Weight at Finish:
~ 34.5 pounds
Water Used: 6 liters
Deer Spotted on Day 1:
6 (including two large bucks)
Deer Spotted on Day 2:
1 (and a bunny rabbit)
Skunks Smelled: 3
Ticks Found:
3 (1 in my knee)